---
Changhua boot press equipment through identification technology to reach the international advanced level
---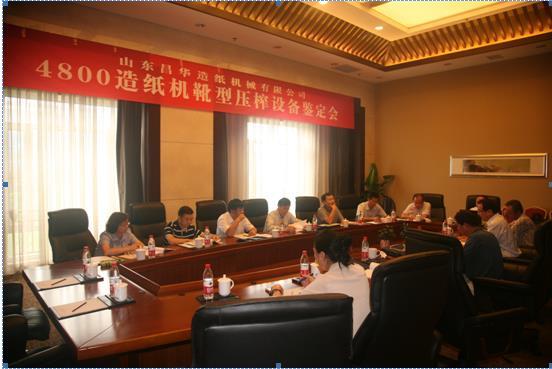 On July 28, 2015, the shoe press equipment of shandong Changhua Paper Machinery Co., LTD passed the scientific and technological achievement appraisal of Shandong Province. The appraisal meeting is hosted by Shandong Light Industry Association, Cao Zhenlei, China light industry machinery association, a researcher at the Chinese academy of papermaking senior engineers Liu Anjiang, shandong paper industry research and design institute researcher Cui Dizhang, hangzhou electrical and mechanical research and design institute of light industry senior engineers Dr Yang xu, shandong sun paper industry co., LTD., the high Joe arms, mechanical chang-an liu, a professor in the school of shandong university, professor high China changsha engineering co., LTD Hou Lanqing and other 7 members of the expert appraisal committee made a field visit to the equipment and listened to the research and development, manufacturing and application report of the project team. After discussion by the experts of the appraisal committee, they concluded that the equipment:
1, the technical data provided is complete, complete, standard, in line with the appraisal requirements.
2, shoe type of crushing equipment research and development on the basis of absorbing the international advanced technology and experience, has the innovation: (1) invented a new type of structure of boots type press, plate and boots set of four areas: formed between static pressure and dynamic pressure area, unloaded oil and oil level keep area, can form good lubrication and pressure distribution range. (2) the invention of a compensable skeleton oil seal and wear-resistant sleeve sealing form, sealing service life is long, sealing effect is good. A sealing part with four-side concave structure is invented to make the sealing between boot cover and rotating mechanism reliable and large pressing force. (3) In order to adapt to the condition of high line pressure alternating stress, a new roller forging technology was developed.
3. Tested by the quality testing department, the main technical indicators have reached the requirements of Q/1500CHZ001-2013 enterprise standard. After 7 months of continuous production by users, smooth operation meets production requirements.
The appraisal committee believes that the paper machine boot press independently developed by Changhua company has reasonable design, advanced technology, reliable operation, obvious energy-saving effect, high degree of automation and broad market prospects. The overall technology has reached the international advanced level. At the same time, it is suggested that Changhua company further develop stainless steel groove press roller.
Changhua company has nearly 50 years of experience in papermaking machinery production, and has produced a number of domestic high-level cultural and packaging papermaking machinery host equipment of 100,000 tons, 200,000 tons, 300,000 tons and 400,000 tons. Since November 2012, the first boot press equipment has been developed and applied to shandong Huajin Paper Co., LTD. 3400/650 meters white paper jam machine. The second machine was used in Dezhou Taiding New Material Technology Co., LTD. 4800/550m high strength corrugated raw paper machine in January 2015. In June, shandong Quanrun Paper Co., Ltd. signed a 5650/1000m boot press equipment, which is now in production.
The successful development of the boot press equipment of Changhua company will be the best choice for the paper machine and paper machine transformation and upgrading of the speed of the domestic paper industry 500m/min-1500m/min. It will certainly serve the paper industry of the domestic paper equipment, protect the environment, green development, energy saving and cost saving.