---
Changhua Company won the 2010 Shandong Province Light Industry Safety Production Advanced Unit
---
In 2010, the majority of cadres and employees of Changhua Company conscientiously implemented the "Safety Production Law" and a series of deployments on safety work by party committees, governments and light industry associations at all levels, implemented the overall requirements of the "basic year for safety production", and established and improved safety related work. Rules and regulations, strictly implement the safety production responsibility system, actively carry out safety standardization and "no violations" activities, and make unremitting efforts in responsibility implementation, education and training, safety investment, hidden danger investigation and management, major accident emergency plans and drills, etc. Obtained the title of Advanced Unit of Light Industry Safety Production in Shandong Province in 2010.
Comrade Zhong Xiarui, Chairman and General Manager of Changhua Company, won the 2010 Outstanding Contributor to Safety Production of Shandong Provincial Light Industry Association, and Comrade Li Hongjun, Assistant to General Manager and Production Supervisor, won the 2010 Shandong Provincial Light Industry Association Outstanding Safety Production Manager, and Comrade Li Guangwei, Chief of Safety Section Obtained the 2010 Outstanding Contributor of Safety Production by Shandong Light Industry Association.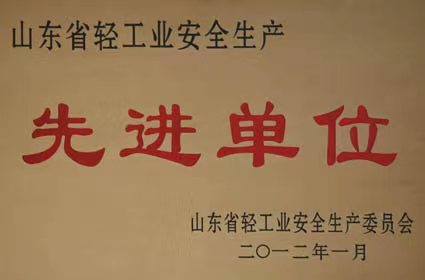 The company will make persistent efforts in 2011 and achieve new achievements in its work. In accordance with the deployment requirements of the provincial, municipal and district committees and governments for safety production work, we will earnestly do a good job in the "year of basic-level deepening of safety production", further innovate ideas, work solidly, and make safety production work to a new level.