---
The company participated in the Shandong (International) Pulp and Paper Technology and Equipment Exhibition
---
Technological innovation, energy saving, consumption reduction, cost reduction and sustainable development
——2009 Shandong (International) Pulp and Paper Technology and Equipment Exhibition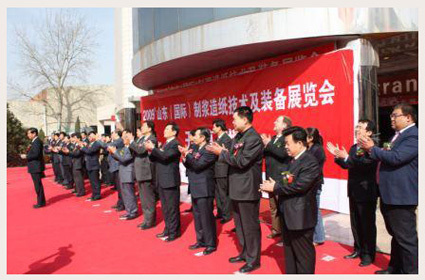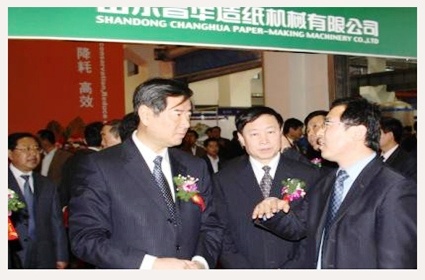 On March 17, 2009, the 2009 Shandong International Paper Exhibition was grandly opened in Jinan Shandong Machinery and Equipment Exhibition Center. The exhibition attracted 180 companies from 10 countries and regions to participate in the exhibition. Foreign companies include F&P Nordic Forest and Paper Group, Canada Tianbai, France PCM, etc. Paper, Galaxy Paper, etc. all participated in this exhibition. Shandong Changhua Paper Machinery Co., Ltd. participated in this exhibition as a co-organizer.
The theme of this exhibition: technological innovation, energy saving, green environmental protection, circular economy; purpose: to attract global leading suppliers of technical equipment to provide perfect solutions for processes and processes? To help paper mills reduce costs and achieve sustainable development.
Wang Junmin, member of the Standing Committee of the CPC Shandong Provincial Committee and vice governor of Shandong Province, and other leaders attended the opening ceremony. As a well-known papermaking equipment company in China, Zhong Xiarui, the chairman and general manager of our company, was invited to attend the opening ceremony.
After the opening ceremony, Vice Governor Wang Junmin, accompanied by Song Honglin, Deputy Director of the Provincial Light Industry Office, came to Changhua Company's booth to have a cordial conversation with President Zhong, and was very concerned about the current situation and development of the company. He inquired in detail about the production and operation of the company last year, and what was the situation of the company this year under the rare economic crisis? Mr. Zhong earnestly introduced the operation and development of the company to Vice Governor Wang.
At present, Shandong's papermaking output has reached 13 million tons, accounting for 18% of the country's total output. The three indicators of sales revenue, total profits and taxes, and total profits all account for 1/4 of the country's total. Output and economic benefits have ranked first in the country for 12 consecutive years. , By 2010, the output of Shandong papermaking will exceed 15 million tons.
During the exhibition, we communicated with our counterparts inside and outside the province. Everyone has a full understanding of the current economic crisis, encourages each other, and has confidence in the development of the paper industry.