---
Changhua Company passed the technical appraisal
---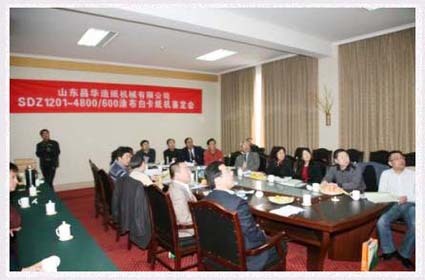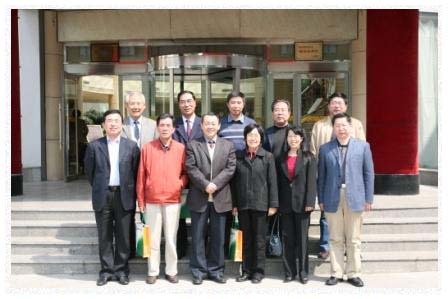 On April 16, 2009, the "SDZ1201-4800/600 high-grade coated white board machine" independently developed by Shandong Changhua Paper Machinery Co., Ltd. passed the technical appraisal in the beautiful Donghu Hotel of Liaocheng University.
Director of the appraisal committee: Cao Pufang, senior engineer, executive vice chairman of China Paper Association; deputy director: Chen Jiachuan, president and professor of Shandong Institute of Light Industry; deputy director: Zhang Xi, former director and senior engineer of the Technical Equipment Department of the Ministry of Light Industry. Also present at the appraisal meeting were experts and leaders from Changsha Light Industry Design Institute, Shandong Light Industry Machinery Association, Shandong Paper Design and Research Institute, Shandong Light Machinery Association, Baoding Light Industry Design Institute, Paper Association and other units. Pulp and Paper Co., Ltd. user representative.
General Manager Zhong Xiarui introduced the company and the project to the experts and leaders. Deputy General Manager Dong Yuzhou made a technical summary report of the project on behalf of the company, and Wang Yonghong, the director of MCC Meili Pulp & Paper Co., Ltd., made the paper as a customer representative. A report on the trial of the machine.
The project completed the construction drawing design in October 2005, the prototype trial production in October 2007, and the trial production in February 2008, and the first trial was successful. After 15 months of production and operation by MCC Meili Pulp and Paper Co., Ltd., the machine has been well received and met the design requirements. The maximum working speed is 600 m/min and the daily output is 1000t. Through in-depth research and expert demonstration, MCC Meili Pulp and Paper Co., Ltd. took the road of forest-paper integration, used the desert and Gobi Desert near Zhongwei, planted poplar trees in a large area, transformed the desert and Gobi, and formed millions of Mu of self-provided forest farms, and use the rich Salix resources in the border areas to meet their own production needs. The 4800/600 high-grade coated white cardboard machine adopts mature experience and technology suitable for local papermaking raw materials.
The appraisal committee believes that the whole machine has a reasonable design, advanced technology, reliable operation, low energy consumption and high degree of automation. Its overall technical level has reached the domestic leading level, with broad market prospects and good economic and social benefits.